Introduction:
In the world of physical fitness and athletes, some powerful groups of women blow the human potential. These athletic and fittest women on earth have set the boundaries of ordinary achievement, they don't only show extraordinary physical strength and endurance but also a set commitment by pushing their limits. Fittest Women on Earth. Top 10 Fittest Women on Earth from whom We should take inspiration. Fittest Women. Top 10 Fittest Women on Earth
There are different points of view of athletes such as CrossFit, weightlifting, and track field. These women have become an inspiration for many youngsters by showing how dedicated they are to their goals, and with their extraordinary spirit. They have proven that the human body can achieve different heights in terms of fitness which were once impossible. 
Their stories have the power to give respect and transformative power of determination that impact the passion for fitness which helps them shape both body and mind.
From dominating CrossFit competitions to excelling in track and field, weightlifting, and more, their journeys reflect not only exceptional physical prowess but also an unbreakable spirit that thrives on challenges. These women inspire us to push our boundaries, embrace the grind, and unlock our fullest potential, serving as beacons of inspiration for anyone striving to achieve greatness through discipline, perseverance, and unwavering commitment to fitness.
Top 10 fittest Women on Earth
Tia-Clair Toomey
Tia-Clair Toomey is an extraordinary athlete hailing from Australia who has captured the world's attention with her remarkable achievements in the realm of fitness and sports. She was born on 22 July 1993 in Queensland, Toomey's journey is very inspirational and shows how dedicated she is to her goals.
She has accomplished many goals in CrossFit, her story is powerful and proved that you can do anything with self-belief. CrossFit is tough with a high-intensity fitness regime that combines different elements in weightlifting, cardio, gymnastics, and much more. 
Tia-Clair Toomey's prowess in this field has earned her worldwide recognition and several prestigious titles. Her journey began when she was so young she started her journey as a sprinter and weightlifter.
These early experiences laid the foundation for her future success in CrossFit.
Tia-Clair Toomey's transition to CrossFit showcased her versatility and determination to excel in various domains of physical fitness.
In 2015, Toomey made her first appearance on the international CrossFit stage at the CrossFit Games, which is considered the ultimate test of fitness. Her debut performance was impressive, reflecting her commitment to pushing her limits and competing against the best athletes globally.
Beyond her accomplishments in CrossFit, Tia-Clair Toomey embodies the values of sportsmanship and community.
Sara Sigmundsdottir
Sara Sigmundsdottir is a CrossFit athlete from Iceland and has become a part of the world of fitness and competitive sports. She was born on September 12, 1992, in Iceland. She has gained significant popularity in the CrossFit community through her true athleticism, dedication, and achievements.
Sara's journey was very young when she started playing sports. She was saturated with gymnastics and gained strength, flexibility, and coordination, all of which are helpful in CrossFit. CrossFit is a high-intensity program that includes strength, endurance, and cardiovascular health. 
She is known for her no-fear personality for her training and self-improvement. Her hard training routine includes lifting heavy weights and improving strength and endurance. The dedication of Sara has continually progressed gradually and she competes in the highest level of sports.
She gained the highest popularity when she performed on the global stage. Over the years, she has been nominated for the title of Fittest Woman on Earth, which is awarded to the winner of CrossFit games.
Sara is also known for her engaging personality as she shares her routine on social media, and fitness tips and constantly talks to her followers. Her reliable side made her fans adore her more.
Sara's journey in CrossFit has not been without challenges, She serves as an inspiration to many, encouraging people to pursue their fitness goals and live a healthy life.
Katrin Davidsdottir
Katrin Davidsdottir, another Icelandic powerhouse, has earned her place as one of the fittest women on the planet. With two CrossFit Games championships under her belt, Katrin's accomplishments reflect her dedication and unrelenting pursuit of greatness. Her mental toughness and ability to thrive under pressure have consistently set her apart. Beyond her physical prowess, Katrin's positive attitude and determination to inspire others make her a role model for aspiring athletes everywhere.
In the early days when she was in Iceland, she gave rise to the CrossFit community, a country that is known for its harsh climate. This made her very tough because she was exposed to these tough elements from a very young age. This type of upbringing made her come out of their comfort zone and then she became a star in athletic success.
In the Year 2012, Katrin played her very first sport in CrossFit Games, and she came in 30th place, While not getting discouraged by her failure, She used to prove herself in the upcoming round. She knew that CrossFit is not only about Physical strength but also mental strength and made the plans ahead with proper techniques and training and now she is one the most talked about fittest women on earth.
Annie Thorisdottir
Annie Thorisdottir is a two-time CrossFit Games champion from Iceland who has left an indelible mark on the fitness world. Her remarkable ability to excel in diverse challenges, from cardiovascular demands to lifting heavy weights, showcases her well-rounded capabilities.
Annie's journey is all about how she is always inspired and willing to embrace the situation. She is an example of a few people who have the mindset that fitness is not all about physical strength and winning but also the journey to find yourself and self-growth
She is a two-time CrossFit champion 2011-12, a Two-time silver medalist, One-time bronze medalist.
Annie appeared on CrossFit in July 2009 as she traveled from Reykjavik to California. She was sent to boot camp classes but had a single month of experience in CrossFit. Annie finished eight events among the top 10 and won the Sandbag Sprint. 
Brooke Wells
Brooke Wells represents the United States in the realm of CrossFit. Her strength and determination have made her a standout competitor.
Brooke's dedication to addressing her weaknesses head-on is a testament to her growth mindset and her willingness to push boundaries. She embodies the idea that fitness success is built on a foundation of consistent effort and an unwavering belief in one's potential.
She is a two-time individual game athlete in CrossFit, She was a brand by herself when she played in Central Regional 2015, which she won when he was only 19 years old.
She made her debut appearance in 2015 and in 2016 she proved herself, Came third in Central Regional and six with top 10 five finishes, and even one. 
Samantha Briggs
Samantha Briggs, also known as "The Engine," hails from the United Kingdom. Herbal performances at the CrossFit Games. Kara's versatility and dedication have led her to become a formidable contender. Her story of overcoming adversity and turning challenges into opportunities has inspired countless individuals to pursue their fitness aspirations with determination and courage.
Samantha Briggs is an amazing and inspirational soul who has made a great impact in the world of fitness. The dedication she has is remarkable. Samantha Briggs has become an inspiration and role model for so many youngsters.
Her determination and discipline made her conquer the CrossFit world. Her hard work and competitive spirit have become her work ethic as she can easily train endlessly and can be called the fittest human on the planet. She started with CrossFit and made herself and her mind constantly look for improvement.
Beyond her competitive achievements and contributions to the fitness community, Samantha Briggs is a symbol of empowerment.
Laura Horvath
Laura Horvath represents Hungary and has emerged as a rising star in CrossFit. Her agility, strength, and youthful energy make her a promising talent to watch. Laura's journey reflects the excitement and potential of a young athlete navigating the world of elite fitness. Her dedication to fitness has no limits.
She is one of the most remarkable figures in the world of fitness, She is significantly into CrossFit. She was born on August 7, 1996. Her dedication to fitness is nothing but inspirational. She has some athletic abilities and her name is always taken in the global community of CrossFit. 
Laura's accomplishment was in 2018 she made her first debut in CrossFit Games in a CrossFit competition. She competed in a competition along with other fittest athletes and got second place and a remarkable pace.
This success of hers got starlight and then she became a rising star but Laura didn't stop there she learned and grew and became one of the fittest women on earth. 
Sage Watson
Sage Watson is a Canadian athlete who has made a significant impact on the track. She is not into CrossFit, but Sage's commitment to her sport inspires all of us and she gained immense respect thus, she became one of the fittest women on earth. Her training routine is remarkable as she always seeks improvement.
Sage Watson's success is not limited to her accomplishments. She has also been a part of Canada's team. Her ability to work with full dedication earns all of our respect.
She got injuries but it didn't let her down, her determination has always been up there. She has an amazing ability to jump back to her fitness routine no matter what she is going through.
Camille Leblanc-Bazinet
Camille Leblanc-Bazinet is a Canadian athlete and CrossFit professional athlete, She is the winner of the CrossFit Games. She was born on October 10, 1988.
 In her early life when she was young she was into gymnastics for almost 14 years, When she was 16 she had to stop gymnastics because tore her hip muscle but this did not stop her, This injury made her realize that she is strong and she can do much more than after recovering she started CrossFitting along with Soccer and Volleyball. She also became a Captain of her college football team. 
She was very athletic and wanted to continue in sports and CrossFit but her friends and family were against it but she just wanted to give it a try and she did it and now her name is taken when we talk about the Top 10 fittest women on earth.
Gabriela Migala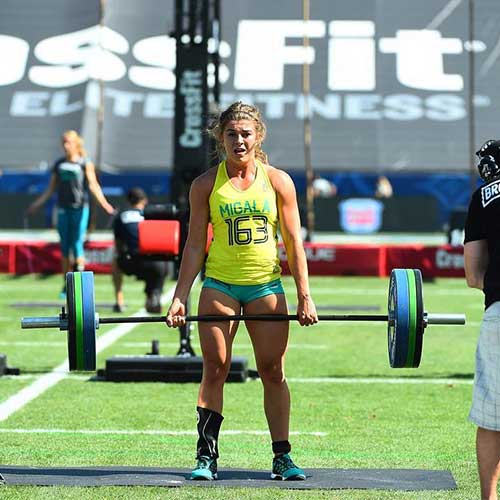 Gabriela Migala is dedicated to CrossFit and placed high above a significant mark in the world of CrossFit competitive fitness. With her intense training and dedication, she has made herself and earned a respected name in the CrossFit community. 
Gabriela's journey just talks about her determination and passion for the sport, her hard training routines, and her work ethic that helped gain her certain achievements in a CrossFit community competition.
Gabriel also inspires others to get fit by pursuing their fitness goals Gabriela is an example of how you can get achievements through dedication.
FAQs:-
Why is it important for women to stay?
Regular exercise can help you reduce the risk of heart disease and make you gain physical strength. 
How do women stay fit?
Women gain and stay fit by just doing a workout for 30 minutes. One best things a woman can do to stay fit is just work out and eat healthy.
Why is it harder for women to stay fit?
Women naturally have a low metabolic rate which makes them gain fat faster but consistency is great, so follow a healthy regime and get fit.
How can someone become fit if they are not fit?
Starting gradually and working out for 10 minutes a day and then increasing their capacity and intensity gradually can make a person fit.
What is the key to staying in shape?
Just one thing which is a Regular workout and a balanced diet.
What do the fittest women eat?
Hey, eat a clean diet that consists of a huge amount of lean protein, fresh fruits, vegetables, and whole grains. 
What are the top habits of fit people?
The habits of fit people are Hydration, Sleep, a Balanced diet, and a workout routine. 
Are fit people more intelligent compared to non-fit people/
If you are a youngster and you follow a healthy lifestyle then you must have better memory thinking and you will be more intelligent.
What is a fit lifestyle?
A fit lifestyle is disease-free, energetic, and daily good habits these things make a fit lifestyle.
How can I make fitness a passion?
If you are passionate about fitness then just compete with other athletes and make it a passion. 
Conclusion:
In closing our exploration of these fittest women on Earth, we are reminded that their impact goes beyond sports. Their stories mirror the trials and triumphs of life, offering invaluable wisdom. They remind us that in the face of adversity, we carry the strength to rise; in moments of doubt, we possess unshakable determination; and through challenges, we can forge pathways to a brighter future.
These women are not merely athletes but embodiments of a particular mindset. 
see also : Top 10 Health gadgets for well-being and overall health
Reference links:
https://www.si.com/specials/fittest50-2017/women.html
https://www.mensjournal.com/health-fitness/top-20-women-watch-2017-crossfit-games